Soft Play Hire
Posted By: Mj Castles | Posted Date: Wednesday, May 9, 2012
Soft Play Hire Liverpool
We have decided to invest in our own soft play packages recently. Soft play hire is aimed at children 0-4 years old and include equipment such as soft shapes, soft cubes, cozy coupes, crawl throughs, pop-up tunnels, ball ponds and other small objects such as animal rockers. Like all of our equipment, we only purchase the best and safest products on the market - and always brand new! We are currently setting up some great competitive packages for any event such as weddings, birthday parties and christenings. We will have some special rates for nurseries, toddler play groups, schools etc who book on a regular basis. All of our employees delivering the soft play are enhanced CRB checked and don't forget we have full public liability insurance for peace of mind. The difference between hiring your soft play to that at a huge indoor warehouse soft play centre is you don't have to share with children you don't know, the equipment is clean and new. You can be sure the equipment is of the same, if not better quality.

Soft play is a great way for the little ones to use their imagination and play in a safe environment. To protect our equipment and to keep it in tip-top condition, we are making our soft play available to hire indoors only, unless it's bright, sunny and going on a flat lawn. We would always suggest having an indoor venue available if we don't think it'll be suitable outdoors. Some images of our soft play can be found below.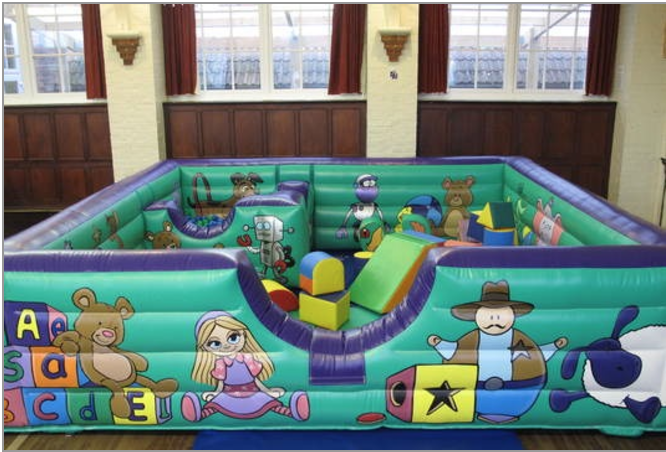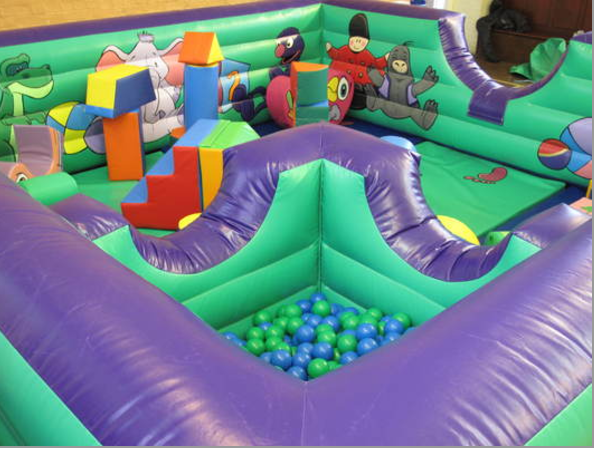 The pictures above are just a very small sample of what we currently offer in our soft play range. This one is an adorably cute surround which is a real eye catcher. It's bright, colourful, safe and well manufacturered. The size is 14ft x 14ft. We will be making some soft play packages without the surround. Not only that but we have a new Peppa Pig bouncy castle / ball pond on it's way and a couple other balls pond amongst other bits and bobs. These are likely to be very popular so get your bookings in quickly. More details and pictures to follow over the next few days.